Welcome to the weekly digital newsletter. Deadline for articles is Wednesday 12 pm, click
HERE
to submit your article. "Questions about newsletter items? Please call the church office, 734-475-8119." For more information click on
Youth Newsletter
, and
Adult Education
.
September Worship Schedule
Virtual (pre-recorded) weekly worship service goes "live" at 6 am Sunday mornings; always available on Youtube click
HERE
Facebook Live (about 10 minutes of informal time together) – Sundays at 8:30 am Click
HERE
In-person weekly outdoor worship Sundays at 10 am, weather permitting
(storms or rain mean no outdoor worship). Masks, healthful distancing, and sign-ups are required; please bring your own chair or blanket for seating. Click
HERE
to sign up.
PRAYERS -
If you have prayer concerns to share, please call the church office or click
HERE
to submit.
Prayers of Comfort for:
* the family of Ray Wurster (Vicky) and friends following his death * Family and Friends of Donna Devinney *
* Marna Balazer and family following the death of her mother, Esther Anderson *
Prayers for Healing for:
* Yvonne Mongeau * Elizabeth Hammer * Vaughn Mills *
* Janet Martin-Conners * Lois Gibson * Rod Craig * Rick Mayday *
* Carolyn Martin and family * Sandy Schmunk * Kelly Stoker *
* Enrique Gonzalez *
Prayers for Strength for:
* Vicki & Ray Wurster * Anderson Finch-Engle and family *
* Residents and firefighters that are fighting wildfires * Jan Alford and family *
Prayers for all service personnel overseas, and especially for:
* Reece W. Porath * Kevin J. Porath *
---
Administrative Council
Special Conference Vote on Mission Tithe Funds
As previously announced via an all-church communication, there will be a Special Church Conference on Sunday, September 27 at 7 pm. Its purpose is to vote on the recommendation of the Outreach and Missions Team on disbursal of the roughly $75,000 that remains in the Mission Tithe account. These funds were set aside at the time of our Sanctuary Renovation project, with donations that were specifically designated for local missions. The Special Conference will be over Zoom, with online voting. Voting is restricted to members only. To get login instructions, please contact Liza Gray at 734-475-8119 or click
HERE
to send an email, or contact Edie Wiarda, click
HERE
to send an email. Those with no access to Zoom are welcome to vote in person in the church lobby on 9/27 during the period 7-7:30 pm.
Deb Hubbard, co-chair of the Outreach Team, will lead a presentation and Q&A on the Mission Tithe recommendations on Sunday, September 20, at 4 pm. To see details on the recommendations, click
HERE
. Again, please contact Liza Gray or Edie Wiarda to request login instructions.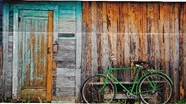 Rev. Faith Fowler's Lake Michigan to Lake Huron Memorial Ride
A new lake-to-lake trail will be dedicated by the state this fall. Rev. Fowler will put it to good use starting Sept. 21 by biking 275 miles from South Haven on Lake Michigan to Port Huron on Lake Huron to raise funds in memory of William McDuffie, an avid cyclist, and former Cass staff member.
His story: He was just 25 years old. Last summer, he had just finished working a midnight shift at the Tiny Homes (in Detroit) when he was killed in an auto accident. Outside of work William could be spotted all over Detroit riding his tall handlebar bike with two different clubs or Slow Roll. One day, he even made a solo trek to Kalamazoo. The ride will create a memorial fund for McDuffie.
Interested others can join her for a leg of the trail (the routes run between 20 and 40 miles a day). Our own Norm Colby will be joining Rev. Fowler for one leg of the journey. For more information or to join Norm, click
HERE
. If you would like to donate click
HERE
, please put in the comments your name and Chelsea First.
Justice For Our Neighbors - JFON-MI Virtual Movie Discussions
Watch this new, trending docuseries on your own "Immigration Nation" on Netflix, then join us for a discussion led by Migladys Bermudez. Wednesdays 5 - 6 pm, Sept. 23 - episodes 3 and 4, Oct. 7 - episodes 5 and 6. Click
HERE
to get an invite from Tori Booker - Director of Justice For Our Neighbors.
Two upcoming Adult Education opportunities
THE CALL
- THE LIFE AND MESSAGE OF THE APOSTLE PAUL by Rev. Adam Hamilton
What would lead a first-century rabbi to travel thousands of miles by sea and land, to be beaten, imprisoned, and ultimately beheaded for his faith? It was a call – a call to turn the world upside down.
This is the story of the Apostle Paul, whose writings continue to shape the lives of 1/3 of the world's population, a man second only to Jesus in his impact and influence on the Christian faith, and whose witness defines what it means to be a follower of Jesus Christ.
This six-week study will be facilitated by Rev. Rodney and offered on zoom beginning Thursday, October 1 at 6:30 pm. The link to sign up will be in next week's Path Finder. Books and downloads are available: Amazon: click
HERE
and at Cokesbury.com: click
HERE
.
"Glimpses of Grace" discussions
Each week we will offer opportunities for us to gather and to watch and discuss a "Glimpses of Grace" video that has been shown in worship. It has become clear that one of the most popular parts of weekly online worship is the "Glimpses of Grace". Individuals find God in all types of ways in their lives. Testimonials of this type evoke emotions and are very thought-provoking. This is a chance for you to listen, discuss, and share your stories in a safe environment.
This eight-week small group will be offered on Sundays at the church in the social hall on October 4 at 9:00 am and will be facilitated by Steve Beck. You can sign up for just one week or as many as you wish. We are limited to 9 people per class. You will need to sign in on a visitor form when entering the church, we ask everyone to wear a mask and we will practice social distancing. Click
HERE
to sign up.
A small group will also be offered on zoom beginning on Monday, October 5 at 7:00 pm and will be facilitated by Lisa Gray-Lion. The link to sign up will be in next week's Path Finder.

The CROP Hunger Walk is Coming
CWS/CROP is an organization that gives to several hunger-related groups across the world. As usual, 25% of what we give will to the Chelsea and Dexter Faith in Action.
Date: Sunday, October 4 at St. Paul United Church of Christ, 14600 E. Old US 12 with a 1:30 pm sign-in time or at a place and time of your own choosing. Please observe COVID19 guidelines. The marked walk distances are 1 mile and 5K routes. Please wear your orange CROP Walk shirts whenever you do the walk and take a photo of you walking and send it to me. If you need one call me and I will get you one(no charge).
Our team is registered as Chelsea: FirstUMC on the Chelsea? Dexter CROP Hunger Walk on-line and Facebook pages. We are encouraging online donations but I do have giving envelopes for each walking group for friends who wish to give by check or cash. Click
HERE
to contact Jackie Holdsworth. Or contact the church office for Jackie's phone number.
---
"We encourage you to subscribe to
MIConnect and MIFaith
, digital newsletters of The Michigan Annual Conference of The United Methodist Church, providing news and information about the work of the larger church around the state and the world.
Click
HERE
for MIConnect and MIFaith, and then scroll down to subscribe.