Furniture Drive at Chelsea First
A furniture drive to support needy families across the City of Detroit will take place on Friday, September 24 from 4:00 - 7:00 pm at Chelsea First United Methodist Church at 128 Park Street in beautiful downtown Chelsea. There are many hard-working families that cannot afford a table to eat dinner or a bed to sleep on. If you have any furniture, new or used, in good condition you no longer need please consider donating.

Volunteers are also needed to help pick up furniture for those who cannot drop it off, load the truck as well as drop off in Detroit Saturday morning. If you have any questions or require assistance please click HERE to contact Rev. Rodney Gasaway. Below is a list of items that can/cannot be donated:

FURNITURE ITEMS THAT ARE IN MOST DEMAND -
mattresses/box springs (not headboards and floorboards)
sofas
reclining chairs
kitchen table and chairs
end tables/nightstands
dressers
lamps

ITEMS THAT WE CANNOT ACCEPT -
buffets
China cabinets
entertainment center
Large desks and dressers
file cabinets
headboards
footboards

Adult Fellowship Opportunity
Let's get reacquainted! It's been a crazy year and a half, and things are slowly getting back to normal. Starting in September we will have an adult fellowship time that involves food! Once a month let's go out to dinner and have a chance to visit with old friends and get to know people who are new to us. This is all about building relationships within our church.

September's dinner will be at Aubree's Pizzeria and Grill in Dexter on Sunday, September 26 at 5:30 pm. There is no long-term commitment, we are doing this one month at a time. Sign up here at https://www.signupgenius.com/go/8050549ADAD2A1-cfumc2 or click HERE to contact Teresa Steklac. Limited to the first 12 people who sign up. But, if you would like to be on a waitlist in the event someone cancels, please let Teresa know.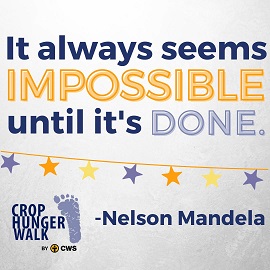 Chelsea/Dexter Crop Walk
This year will take place on October 3 at the St. Joseph Village Church in Dexter. Our Walk will start at 1:30. We will gather on the lawn outside the church. There will be maps for a 1-mile Walk and a 5-K Walk. Children and pets are welcome! You can pick up a donation form from the Chelsea First UMC on the table by the library during office hours. Jackie Holdsworth is the Chelsea First captain, click HERE if you have questions. You can sign up online for the team at https://events.crophungerwalk.org/2021/event/chelseami
GO TO AUBREE'S PIZZERIA on September 30, 20% of your bill will go to support the CROP Walk. Click HERE for flyer to take.

November Leaf Raking - If you would like to volunteer raking leaves for those in the community that may need help, please click HERE to sign up or contact the church office. If you or someone you know needs help with leaf clean-up please click HERE to contact Rev. Rodney.

Calendar Highlights
October 31 – Community Halloween Trick or Treating. We will serve hot dogs, chips, beverages, and candy. The building will be open for people to use restrooms or warm-up, as needed.

November Missions Opportunity – Collecting gently used, handmade and new toys that will be delivered to the Priceless Gift Store in Jackson, MI in December. This ministry helps parents or guardians to shop for their own children for FREE. It's a gift of love!

December – Christmas Pageant (date TBD) December 2 – 3:30-7:30 pm – Children & Youth special needs Bazaar
December 4 – 9-2 pm Child and Youth Bazaar
December 5 – Hometown Holiday Concert, time TBD
December 17 – 7 pm special holiday concert. Good Tidings,
featuring Lottie Mae Prenevost, will premiere at Chelsea First! Joining Lottie will be Wesley Fritzemeier, Brian Brill, and other special guests.