September - May
8:30 - 8:55 Praise Bells (3-5 Grade)
8:45 - 12:15pm Nursery Open
9:00 - 10:00 Worship
9:15 - 10:15 BLAST (Sunday school)
*1st Sundays, children stay in worship
10:00 - 11:00 Fellowship
11:00 - 12:00pm Worship
Nursery open until 12:15pm
Nursery (Birth - 3 Years)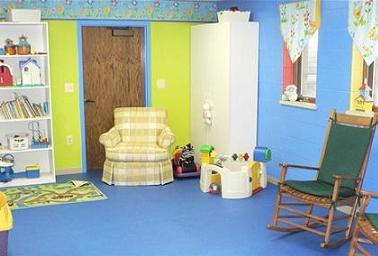 The nursery opens 15 minutes before the first worship service and closes 15 minutes after the last worship service.
The nursery is staffed by a staff caregiver and Safe Sanctuary trained volunteers.
When parents sign their child into the nursery, they receive a sticker with a number corresponding to the number on their child's nametag. To ensure the safety of children, caregivers will verify the parent's sticker number matches the number on the child's nametag before releasing the child. We ask that parents please label all bags, bottles, and other items they leave in the nursery with their child.
BLAST! (Boldly Learn And Serve Together!)
BLAST Learning Hour September - May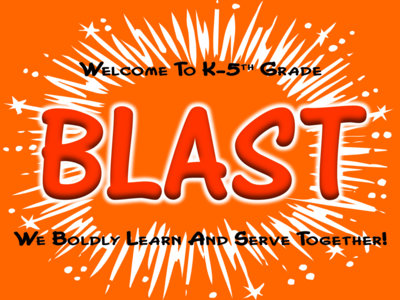 Children begin the morning in worship with their parents. After the opening music and passing of the peace, they are dismissed with their leaders to attend BLAST.
BLAST is an engaging curriculum for PreK - 5 Grade that includes a large group Bible Story and prayer time, followed by age-appropriate small group activities that help children practice living out what they have learned. The curriculum fits our mission well with its emphasis on:
Faith - I can trust God no matter what
Wisdom - I need to make the wise choice
Friendship - I should treat others the way I want to be treated
PreK - 2 Grade need to be picked up by their parents at 10:15pm. 3 - 5 Grade are dismissed on their own and can meet their parents in the social hall.
Worship on the 1st Sunday of each month
On the first Sunday of each month, Oct.-May children attend the 9:00 worship service with their parents instead of class. This service provides a shared faith experience as the whole family worships, sings, receives Communion, and prays together. Parents of preschoolers can choose to have their children participate in this special service or go to the nursery. There are opportunities for children to participate and provide leadership in a variety of ways during this service.
CHILD & YOUTH PROTECTION POLICY
Chelsea First United Methodist Church believes that all persons are significant to the growth of God's kingdom and should have opportunity to worship, learn, and serve in various capacities to ensure personal growth and growth of others. We seek to provide an environment that is physically, emotionally and spiritually safe for all persons who enter our doors, especially children and youth.
To learn more about our Child & Youth Protection Policy, and for information about volunteer 'Safe Sanctuary' training and re-training, please click
HERE
.
Sunday Morning BLAST: June - August
Worship is at 9:30, and the nursery is open from 9:15-10:45.
PreK-5th Graders are invited to BLAST during the 9:30 worship service. We'll learn and practice, our monthly virtues through Bible Stories, activities and mission projects.
Summer Mission Opportunities
The "S" in BLAST stands for "Serve."
Join us this summer
as we serve God by serving our neighbors.
Vacation Bible School
Summer BLAST is our replacement for VBS. Instead of offering 4 morning sessions of VBS and then "closing shop" for the rest of the summer - activities, lessons, mission projects and fun are planned all summer long. Come have a BLAST with us!
​Michelle King
​Director of Children and Parent Ministries
Phone (734) 475-8119 x2012
Or send a message to Michelle
here
.