Disciple Discovery: During 11:00 Worship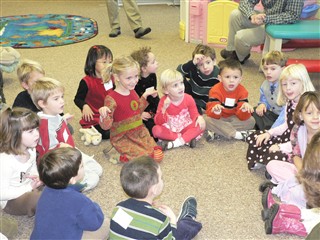 At the beginning of the 11:00 worship service, Preschool - 5th grade children sit with their parents. After the Children's Message, these children may leave the sanctuary and attend Disciple Discovery.

Disciple Discovery takes children on a journey through a specific portion of the Bible. Children will learn and explore Bible stories while continuing to reinforce the BLAST virtues and the three basic truths:
Faith
- I can trust God no matter what
Wisdom
- I need to make the wise choice
Friendship
- I should treat others the way I want to be treated
Parents pick their children up in the preschool room after worship. On the 1st Sunday of each month, children receive Communion as part of Disciple Discovery using a special liturgy developed for children.